Why hire a podcast producer? It may seem like a funny question, because who doesn't want to hire a podcast producer?
And more than that, we'd even go so far as to say that the only good podcasts are podcasts produced by a podcast producer.
But first… 
WHAT IS A PODCAST? 
The word "podcast" was first added to the Merriam-Webster dictionary in 2005. It comes from the words "pod" (which means something like "electronic medium") and "cast," which comes from another word for broadcast.
A podcast is a series of digital media files which you can download on your phone or any other device, usually available in audio and video formats. Put it simply, podcasts are like radio shows, but you choose what you want to listen to; when you want to listen to it.
Podcasting is not just recording yourself talking. It's more than just uploading your audio file to iTunes and praying that people will listen. It takes time, effort, and planning to make your podcast an actual business – a brand – rather than just a pastime.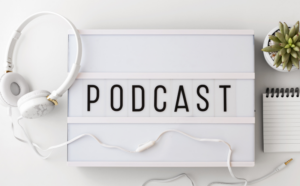 WHAT IS PODCAST PRODUCTION?
As the name might suggest, podcast production is all about creating podcasts and making sure everything is running smoothly in terms of logistics. This is also where most of the technical stuff is handled and managed. This includes ensuring that the tempo is correct, there's a seamless transition between each segment, and each person sounds as good as they can.
In short: Podcast production is all the behind-the-scenes work that makes your favorite podcasts happen!
So, if you're really serious about making money with podcasts, then you need to take the next step and hire a podcast producer.
WHAT EXACTLY DOES A PODCAST PRODUCER DO? 
A podcast producer defines a podcast's narrative, voices, and sound design. They craft the character of each episode and help the podcast stand out through brand storytelling and consistent production.
When you hire a podcast producer, they will work with you to create an engaging, interesting and entertaining show that will increase your visibility and drive traffic to your site.
They also know how to keep your listeners . . . or at least keep listeners coming back for more!
Podcast producers aren't just for the big guys; they are for anyone who wants their project to be successful.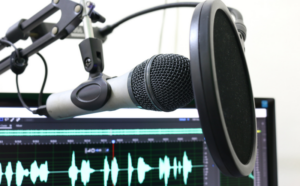 WHY HIRE A PODCAST PRODUCER?
Here are (just a few) benefits you can enjoy when you hire a podcast production team: 
Boost your chances of success right from the beginning! 

invite more listeners

Get more positive feedbacks

Avoid trial and error

Positively affect monetization

Take your audios to the next level!

Significant increase in the quality of podcast production

Take away a great number of tasks from your to-do list

Allows you to focus on your content while

someone else handles the technical stuff

Have someone take care of the things you don't have time for/ are not that much interested in

Save extra time to focus on other aspects of your business

Eliminate stress and enjoy a good night's rest or enjoy a relaxing day knowing that everything is under control 
What kind of magic makes producers different from everyone else? The truth is, it's all in their hands. Producers can alter your life in ways you never imagined possible. 
But don't take our word for it; Experience it for yourself!
*Are you thinking about hiring a podcast producer? 

*Maybe you're an aspiring podcaster who's looking for ways to get your show off the ground without breaking the bank 

*Or maybe you've been working on your podcast for months or years and are struggling with how to make it grow 
The vast world of podcasts truly is ready for whatever you decide to do with this platform.
Whether you build a podcast from scratch, or simply want to reach more listeners WE ARE HERE TO HELP!! 
Schedule a call: https://calendly.com/leng-inque/meeting?month=2022-01 
Or Email us at: leng@lenginque.com